| | | |
| --- | --- | --- |
| | Related Topics: | |
| | Design Verification Plans (DVP&Rs) | |
| | | |
DVP&R Worksheet
The Worksheet tab displays the test plans (blue fields) and reports (green fields) that will be tracked with the DVP&R. If you have the permissions necessary to edit the project properties, you can choose which fields will be enabled and what they will be called. This includes user-defined fields and the ability to define the options in the user-defined drop-down menus, when applicable. The following image shows the relationship of the plan and report records in the DVP&R.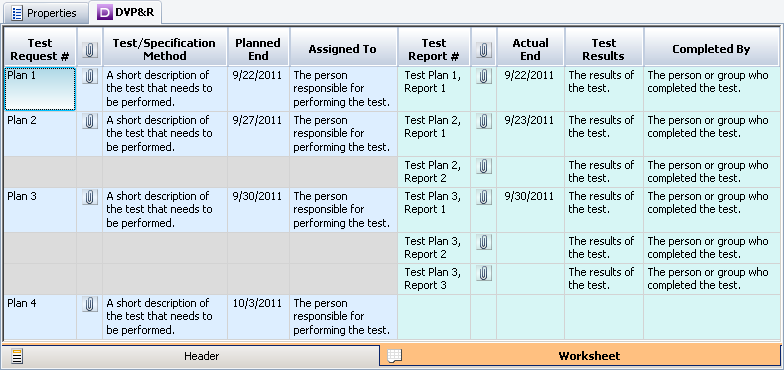 Example of the data-entry columns that you could enable or configure in a DVP&R
When using the DVP&R worksheet, you have the following options:
To transfer data from the associated FMEA to the DVP&R, choose DVP&R > Sync > Sync with FMEA.

To import data from an Excel spreadsheet, choose Home > Excel > Excel > Import from Excel. To export data from the DVP&R worksheet to an Excel spreadsheet, choose Home > Excel > Excel > Export to Excel.

To generate a report of the DVP&R data, choose Home > Reporting > Reports. In the Reports window, the DVP&R reports are located in the DVP&R Spreadsheet and DVP&R Records sections of the Available Reports area.

To split the worksheet view so that you can view text at one side of the worksheet without moving the text at the other side, right-click a column header and choose Split. A split bar will be placed to the left of the column. To remove the bar, right-click any column header and choose Remove Split. (For example, you use this to see the test request number while working on the reports.)

To rearrange the order in which the columns are displayed, select a column header and drag it to the place in the worksheet area you want it to appear. This updates the interface style for the project. You also can change the column order through the Interface Style window.

To change the descriptive information about each column that displays in tooltip form when the cursor is paused on the column headers, open the Project Interface Style window and change the text in the appropriate DVP&R pages.
© 1992-2013. . ALL RIGHTS RESERVED.